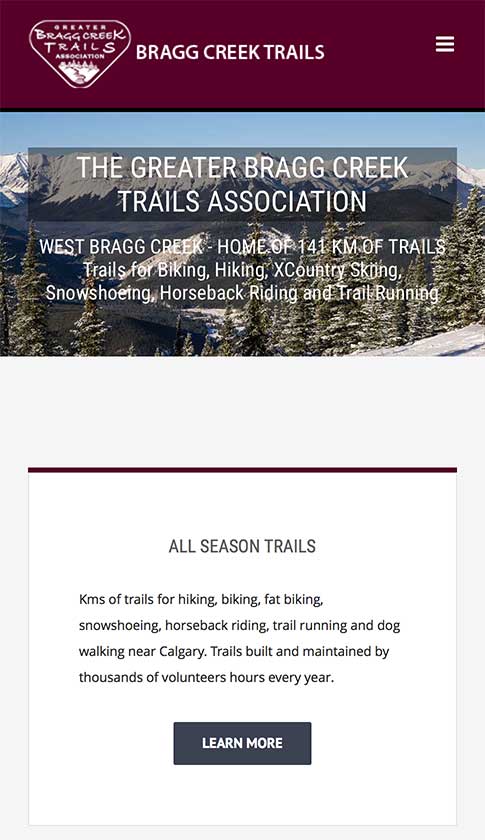 Project Info
Client
Bragg Creek Trails - GBCTA
Skills
Wordpress - Web Design
Project Description
A redesign in WordPress with numerous extra features, events calendar and news/blog. Site is socially connected with Facebook feed and newsletter sign up for Constant Contact. Several forms direct visitors to the various leaders within the GBCTA. Website includes a backend admin, is responsive and is fully accessible 24/7 for tweaks, updates and site expansion.
Security is a constant issue with websites these days and as a result we added extended security features with built-in scans and blocking mechanisms and regular website backups.
If you are in the process of considering a website for your business, let us know and we can guide you through the steps and supply a working list of things you should be thinking about. The little things will make the process go more smoothly which in the end will save you money.
Contact us to get a website that it is easy to manage and update and uses the latest code to get your site found on the web and display in the best possible presentation on any device! We have options for many different price points.
Boden/Ledingham is pleased to be a part of this dedicated group of volunteers who contribute so much to Bragg Creek and have built an amazing trail network enjoyed by locals and visitors alike.
I echo what the others have said about the website. Make no mistake – your contribution is anything but small.  Websites are critical to the success of associations such as ours. Ones that are not refreshed or kept up to date provide pretty clear evidence to the public of a lack of organizational structure and integrity. That can't be said of ours. Every time I've had a request of you for a change or addition, it's been done within hours. Couple that with your efforts on the silent auction make you a major trail hero in my books.
Peter Tucker – President Greater Bragg Creek Trails Assoc.