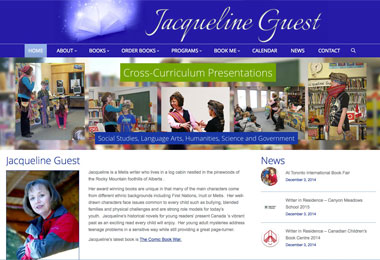 Project Info
Skills
Wordpress, Webdesign
Project Description
Jacqueline's website has all the info needed to sell her books online, book a classroom presentation, check her schedule to see if she is in the neighbourhood, download teachers' guides and much more. This website is a definite asset for Jacqueline's business, working for her 24/7 potential clients and book fans can get all the info about Jacqueline, her books and presentations online.
Need a website that is working for you 24/7, has great search engine friendly interface, modern design and mobile friendly. What are you waiting for?
Contact us to get an affordable website that it is easy to manage and update and uses the latest code to get your site found on the web and display in the best possible presentation on any device!
I recently needed a new website and Boden/Ledingham Web Design was suggested. This has turned out to be the best decision I have made in a long time! Professional design with a personal touch. All aspects of the project went seamlessly with Marilyn guiding me along each step in the process and the work was completed before our deadline. I now feel capable of keeping my new site current, but know if I need help, it is only an email away. I would highly recommend Boden/Ledingham Web Design to anyone looking for a cutting edge web site. Jacqueline Guest