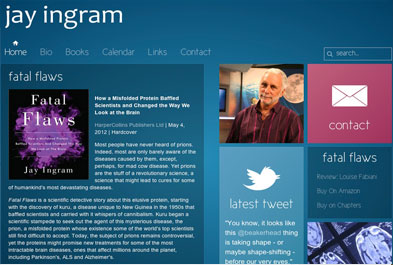 Project Info
Skills
Joomla, CMS, Web Design
Project Description
We pulled this together quickly in order to have the website ready for the launch of Jay's newest book – "Fatal Flaws". However we are comfortable with the knowledge that this design and style of website has the flexibility to grow exponentially.
A simple and yet modern look including some current tools like latest Tweet, reviews and news.
This type of website has a built-in admin to facilitate easy web maintenance for clients.
Client Testimonial
For years I stumbled around without an adequate website; mostly I only had myself to blame. But finally I really needed to get something up and running and realized I already knew Marilyn Ledingham, who had done such a nice job of the Banff Centre Science Communications website (www.banffscience.ca). So I hired her to build me a website that was attention-grabbing, clean, easy to navigate, intuitive – all the things I like in a website. And now I have that. All credit to Marilyn. Jay Ingram