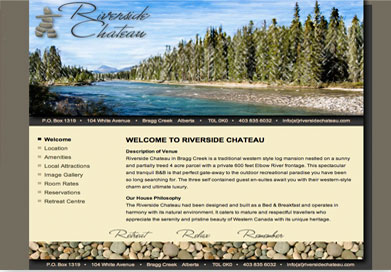 Project Info
Skills
Web Design, Log Design
Project Description
A new Bed & Breakfast in Bragg Creek came to us needing a website, logo and business cards. We were able to design & provide everything in-house.
Sourcing the perfect stock images and then turning the images into "paintings" illustrates a more colourful and custom look as well as demonstrating our many creative talents.
Other features are the user-friendly online registration form and a simple yet elegant image gallery.
Client Testimonial
"Marilyn has a rare ability to listen to the customer and take in what the needs were and what mattered to us. She was patient and methodical and had a great attention to details. Thank you so much for your hard work and strokes of genius." Marek Grzesiak