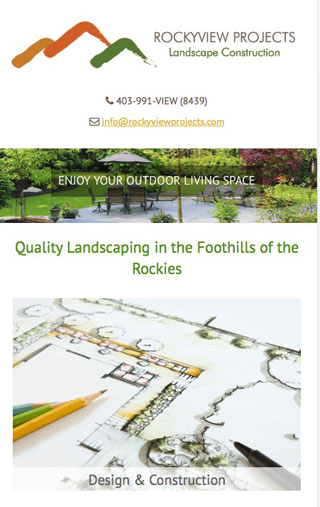 Project Info
Client
Rockyview Projects
Skills
Wordpress, Web Design
Project Description
A new WordPress website for a new Bragg Creek landscaping company. Fast loading and search engine friendly, responsive (mobile friendly) modern design, this website has a backend admin and is fully accessible via admin panel for tweaks, updates and site expansion.
Contact us to get an affordable website that it is easy to manage and update and uses the latest code to get your site found on the web and display in the best possible presentation on any device!
Best wishes to Rockyview Projects in the upcoming season.
We have been working with Marilyn at Boden/Ledingham for a few years now and find Marilyn extremely professional, polite, helpful, responsive and knowledgeable. They have helped us with a few business website set ups for our family businesses. I trust them with our website, webmail, hosting and Marilyn also helps me with some company marketing.
Duncan O'Nions – Rockyview Projects Ltd