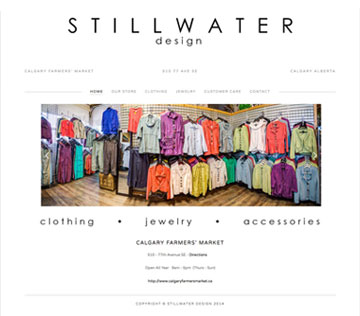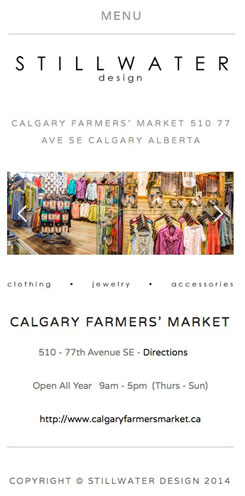 Project Info
Client
Stillwater Designs
Project Description
Stillwater Designs – a Calgary women's clothing boutique in the Calgary Farmers' Market has a new website with built-in galleries, sign up for MailChimp newsletter, user-friendly admin to facilitate easy management of the website going forward and much more.
This website has lots of bells and whistles and yet is still affordable. It also has a responsive, modern design that works and looks good on all devices. A terrific added value! See web layout on left below and mobile layout on right below.
Need an affordable website that it is easy to manage and update?
Client Testimonial
I thoroughly enjoyed working with Marilyn on this project. She is extremely professional, knowledgeable and efficient. Her efforts and creativity exceeded my expectations. I am thrilled with the end result and have had very positive feedback from clients.
Sandy Angle – Stillwater Jewelry