Sign Up App for Groups/Clubs/Events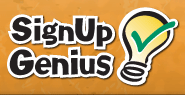 This is a great online application for organizing sign ups for events, volunteers, and group activities. It is FREE with an option for the advanced paid version.
Sign Up Genius makes it easy to build a sign up form and share with social media, Google Calendar, etc. There is a choice of templates to choose from. You can also coordinate sign ups with a payment via PayPal and it is easy to email groups/attendees with updated information and reminders. Also has built in RSVP functionality. This is a great app for any type of group event – highly recommended!!
List of Features:
Simple Wizard for Building Sign Ups
Choose from hundreds of professionally designed themes
Upload your own image/logo to your sign up page
Use a WYSIWYG interface to create rich-text descriptions
Enter hundreds of dates in an instant using our recurring wizard
Flexible Sign Up Page Formats
Non-date specific sign ups for donation lists or ongoing sign ups
RSVP format sign ups for parties and banquets
Traditional Date/Slot sign ups for massive volunteer sign ups
Sign ups with limited quantities or unlimited quantities
Comment field for custom responses on each sign up
Admin-Controlled Security and Privacy Settings
Customizable options for what users have to enter to sign up
No account required option for your participants
Optional password-protected sign up pages
Optional group-only sign ups that restrict sign ups to group members
Non-indexed URLs so admin determines who is invited
Emails are NEVER sold or distributed. Period.
Powerful Administration Tools
Bulk email utility for invitations, updates or thank yous
Compiled email delivery report for bounced emails
Saved address books for easy creation of multiple sign ups
Export sign up data to Excel for offline use
Printable version of sign up for taking to an event
Admin ability to add/edit/move/delete people on the sign up
Viewing statistics for sign up pages
Helpful Member Features
Integration with Facebook, Twitter, Pinterest for sharing
Calendar integration with Outlook, iCal, Google calendar
Automated email reminders
TEXT reminders
Personal account calendar showing all sign up items
EDIT and SWAP tools for users with schedule changes