A Mobile Friendly Website is a Necessity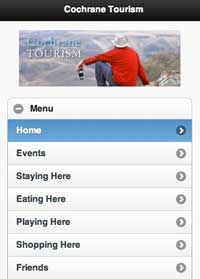 According to Google,  mobile internet use will surpass desktop use this year (2013).
Consumer behavior mandates that your business is accessible anytime/anywhere your customers need you and therefore you need a mobile version of your website is a necessity.
If you already have a website likely it is accessible on a mobile device, that is good news. However unless you have a mobile version of your website,  it probably looks pretty crappy. If it looks crappy then that is bad for your business.
Mobile Statistics:
46% of all cell phones in the US are smartphones.
Research predicts that by 2013, more people will be accessing the Internet on their mobile phones than those who will be using their desktop computer.
87% of the world's population is now using a mobile device.
Research indicates that 49% of mobile web users have bought at least 1 item via their mobile device within the last 6 months
Mobile sites should have:
Simple navigation.
Larger font size
Optimize the site for a mobile – no bells a whistles
Make the file sizes smaller to increase the speed the site loads on a mobile device
Fast loading websites that don't require a lot of data to be loaded – customers will appreciate it.
Scaling images and fonts that adapt to screen size
No flash elements that many smart phones can't render
Why do you need a mobile ready website for your small business?
Mobile-friendly sites turn users into customers
Not having a mobile-friendly site helps your competitors
Non-mobile friendly sites can hurt a company's reputation
Not having a mobile site is a reflection on your business
Your regular website won't load properly on a mobile device and you will lose potential customers as a result.
There are several options to make your website mobile friendly and optimized. Contact Us to find how to get a mobile version of your website and get more business.